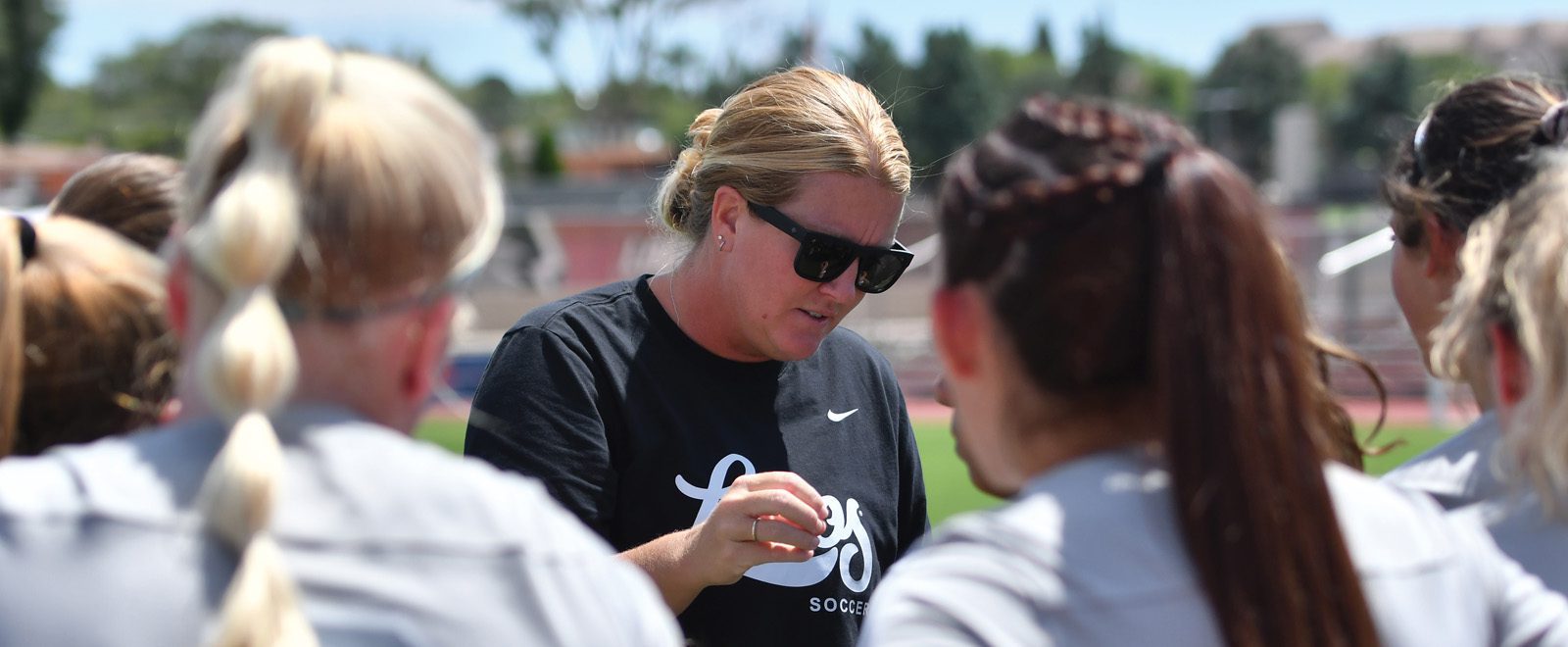 "This Game Has Given Me Everything"
Heather Dyche takes UNM soccer to new heights and is grateful for every moment
By Glen Rosales
Perhaps a telling measure of Heather Dyche's regard within the soccer community came last summer when she was hired by New Mexico United as a technical staff special advisor for the men's professional team that plays in the USL Championship League.
This was somewhat groundbreaking for the league, as she became only the second woman to join a team's technical staff. But for Dyche, accomplishing the unusual was nothing unusual.
Dyche, who has been The University of New Mexico's soccer coach since 2015 and guided the Lobos to consecutive NCAA tournament appearances for the first time in program history, has made a habit of busting gender-based constraints through her sheer ability to achieve results.
"The opportunities the sport gives you are so unique. And when you're the facilitator of that and you get to create that for your athletes, that's pretty cool," she said. "I just fell in love with that. I love coaching. I still do."
Dyche, 42, was a two-sport, four-year star in both soccer and basketball at Eldorado High School in Albuquerque, playing hoops under soon-to-be UNM women's basketball coach Don Flanagan.
She accepted a soccer scholarship at Nebraska but wanted out after one year and toyed with the idea of returning home to play again under Flanagan for the Lobos.
"It came down to Florida State soccer or UNM basketball," Dyche said. "That was my final two choices. And actually, Coach Flanagan told me to go play soccer. He said, 'You can come here if you want. I know you'll play. There's a scholarship for you. But you're a soccer player, I know you are.' And he was right."
After three successful years playing for the Seminoles, Dyche was ready to join the Atlanta Beat of the professional Women's United Soccer Association. But the league folded before she got the chance.
A couple of her FSU teammates were headed back home to Norway to play and invited Dyche along.
"Which, obviously, is the coolest thing ever," she said with a grin. "It was the time of my life. We had done a little bit of coaching during the latter part of it just to pay bills — running youth clinics and doing some of that stuff for the club. Then we took a coaching license there, actually because if you have the license, you got paid more. We were really broke."
And that is where she got her first nibble of the coaching donut and was hooked.
"I really just thought it was fascinating," Dyche said. "I had never really thought about the structure of coaching. When you're an athlete, you just show up and it's all set up for you. You don't really think about everything that goes into it. I was fascinated by that. I didn't coach for a living, but that definitely ignited an interest."
When Dyche later returned to Albuquerque, the fiercely proud native New Mexican began coaching for a couple of local youth clubs for which she had played growing up and began earning increasingly higher coaching licenses.
When she finished her B license, her instructor, a former national program director for U.S. Soccer's coaching program, encouraged her to dig deeper into the pursuit.
"He was the one that wanted me to get more into education," Dyche said. She was working for the New Mexico Youth Soccer Association, teaching courses, which led to teaching on bigger stages — U.S. Soccer, CONCACAF, the Confederation of North, Central America and Caribbean Association Football, and FIFA, the Fédération Internationale de Football Association.
Dyche and former Washington Huskies women's soccer coach Leslie Gallimore remain the only two women who regularly teach for U.S. Soccer.
"It was typically all men, so I was one of very few female instructors, as was she," Gallimore said. "She didn't seem to bat an eye at the environment. She was very confident in her ability to instruct." That confidence and ability to focus on instruction is something Dyche said she constantly seeks.
"To me, it is knowledge-based, not gender-based," she said. "If you put the time and energy into educating yourself, and hopefully you have if you get to wear the (U.S. Soccer) crest, then it has nothing to do with your gender, it has to do with your preparation. I don't walk into a room and say, 'Oh, it's all guys or all girls, or it's men and women.' I see it as everyone coming together to work on soccer."
 It was that quality that attracted the attention of New Mexico United officials.
"Every time I've stepped away from a conversation with Heather, I felt like I've come away with a different perspective on myself as a leader, how I wanted to coach, or how I wanted to communicate and establish relationships with our players," former United coach and technical director Troy Lesesne said at the time of her hire. "The reason for this hire isn't to make a splash. The reason is we're getting an extremely talented coach — someone that is one of the best coaches in New Mexico, and one of the best coaches in our country. Heather is somebody that is going to open up more doors for women to be involved in the men's game." 
Dyche says she really doesn't see herself as a leadership trailblazer.
"Leadership is always something you strive to be better at," she said. "You have to role model that excitement and passion. I think if you don't have that, you shouldn't be coaching. Because I love soccer so much and I love the environment so much, I think that's probably perceived as leadership, because I love what I do."
Dyche, the coach, can't see herself doing anything else.
"I wake up every day and I feel really grateful that I get paid to do this job. It's just amazing to me," Dyche said. "And I think everybody has a little bit of an imposter syndrome where you say, 'You're going to get found out.' But I feel that way mostly because I don't ever want to lose it. It's not lost on me that I've never done anything else in my life other than soccer. It's paid for my school; it's paid my travel; it's paid for my livelihood. This game has given me everything and I think you show gratitude for that with humility and hard work and you put it back into it. Those things have always paid off for me."
Spring 2022 Mirage Magazine Features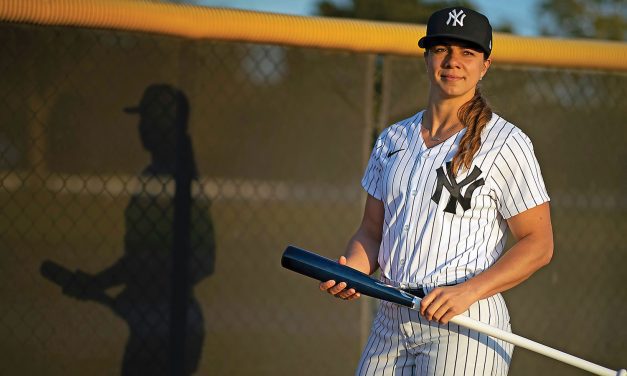 Rachel Balkovec makes baseball history, former Lobo catcher climbs the MLB ladder…
Read More