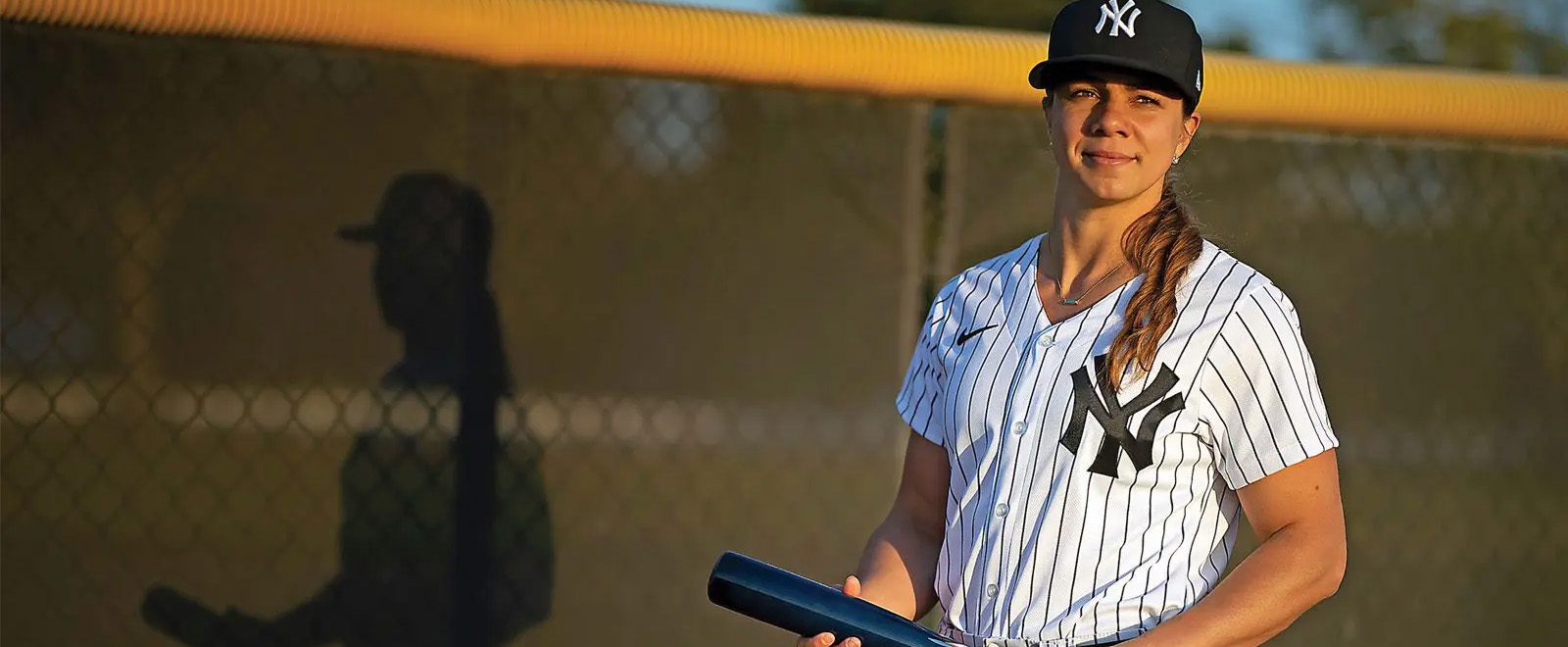 Former Lobo catcher climbs the MLB ladder
By Leslie Linthicum
On Jan. 10, former New York Yankees All-Star pitcher CC Sabathia tweeted a photo of UNM alumna Rachel Balkovec fitted out in Yankees pinstripes with the message: "Keep breaking barriers, Rachel. Salute!"
It was a big day for Balkovec ('09 BS), a history-making day in a sports career that has seen its share of firsts.
At 28, Balkovec was the first woman to be named a conditioning coach for a Major League Baseball team when she took over as the Latin America strength and conditioning coordinator for the Houston Astros, based in the Dominican Republic.
At 32, she became the first woman hired as a full-time hitting coach in the majors when the Yankees signed her on as the team's minor-league hitting coach.
Now 34, the former Lobo catcher is packing up the moving van again, this time headed for Tampa Bay, Fla., and another spot in history. She takes over as manager of the Tampa Tarpons, the Yankees' Class A affiliate team, becoming the first woman to be called 'skipper.'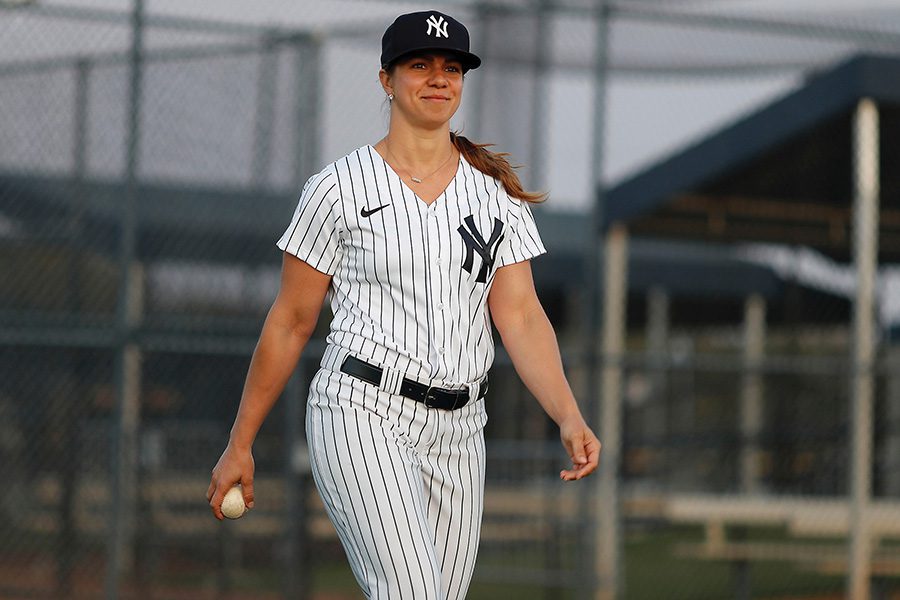 "The first word that comes to mind is gratitude," Balkovec said in her debut press conference with the Yankees — which was crowded with 112 media participants on Zoom.
Balkovec noted the Yankees' long history of progressive hiring. (In March 1998, Kim Ng, another former college softball player, was the Yankees' assistant general manager. Ng went on to be the first female general manager in baseball.) And she tipped her hat to her parents, "who raised me to be a competitive athlete, not a woman or a man, but just to be competitive and capable and aggressive."
Asked about the sexist blowback to her hiring, Balkovec noted her resiliency.
"Three years ago, I was sleeping on a mattress that I had pulled out of a dumpster in Amsterdam. If you know yourself and you know where you came from, it doesn't really matter."
She calls her story "the American dream" and is adjusting to a new level of attention, including some shoutouts from some heroes.
"I can die now," Balkovec joked. "Billie Jean King congratulated me."
Balkovec came to UNM from Creighton University, recruited to play catcher for the Lobos. By the time she graduated in 2009, she had changed her major from psychology to exercise science and then to kinesiology, with an eye to a career helping athletes perfect their performances.
Among her mentors were former UNM instructor Chris Frankel and Len Kravitz, associate professor of exercise science at UNM, who taught her that coaching is motivating others to learn.
She had graduated from UNM and was working on her master's degree in kinesiology at Louisiana State University in 2012, when the St. Louis Cardinals called looking for a student to work as a Minor League strength and conditioning coach at their baseball training camp near Baton Rouge. The Cardinals took a leap of faith and hired Balkovec, who was working as a graduate assistant strength and conditioning coach at the school.
When the internship ended and she had her degree, Balkovec had an enviable resume for a 26-year-old: A master's degree in sports administration, experience working with athletes on strength and conditioning at two universities and experience with the Cardinals.
She moved to Arizona, one of the hubs of baseball spring training, applied for every job listed in Major League Baseball and waited hopefully.
"I got crickets," Balkovec said.
The one baseball representative who showed interest in hiring her later called her to let her know that it was her gender, not her qualifications, that scuttled her chances. And he said he had called around to other teams and heard the same story. She appreciated his candor.
"I finally understood," she said.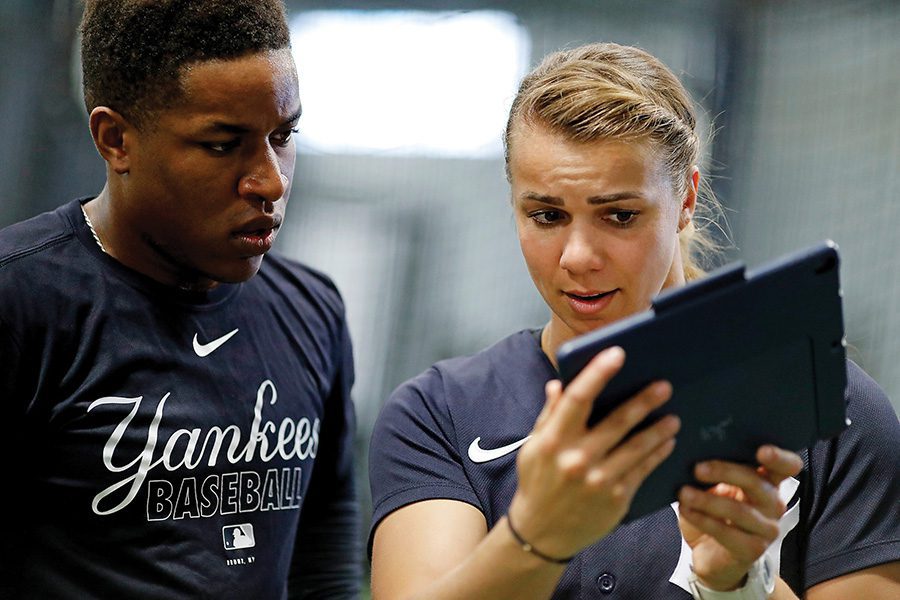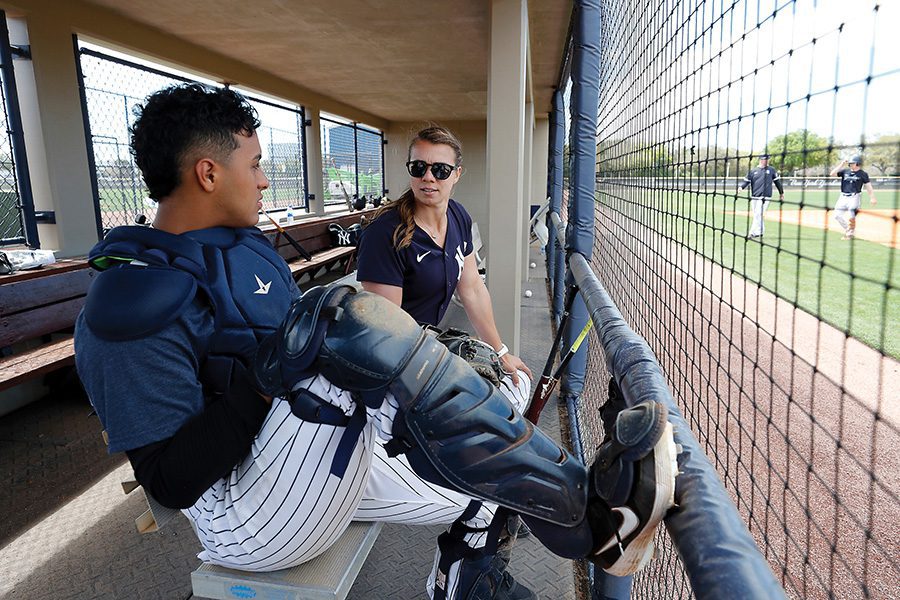 With the doors of Major League Baseball closed tight, Balkovec took a job waitressing in Phoenix, volunteered at Arizona State University and entered what she calls "the dark times."
Some colleges approached Balkovec about openings in strength and conditioning, but always for women's sports. Even though she had respect for women's sports, it bothered her that those were the only doors open to her. She dug in.
One of her sisters suggested she apply for jobs as "Rae Balkovec." She immediately got email responses, but the conversations ended when they reached her on the phone. Balkovec quickly dropped Rae and went back to Rachel.
Finally, the call came from the Chicago White Sox, who hired her as a strength and conditioning coach.
The White Sox job led to a job back with the Cardinals as the Minor League strength and conditioning coordinator. In November 2015, the Astros brought her on as the Latin American strength and conditioning coordinator.
Balkovec spent a lot of time in the Dominican Republic, taught herself Spanish and some salsa moves and got valuable experience in understanding the Major League Baseball system and learning how to interact with young male players.
In between those temporary stints, Balkovec moved to Amsterdam (the place she scored the free mattress) in 2019 to pursue a second master's degree in biomechanics and work as the apprentice hitting coach for the Netherlands National baseball and softball team.
When she returned to the United States, she was back to the dark days. With two master's degrees in human movement science and a list of MLB credits on her resume, she took an internship with a technology firm that uses eye tracking to aid hitters and started knocking on MLB's door again.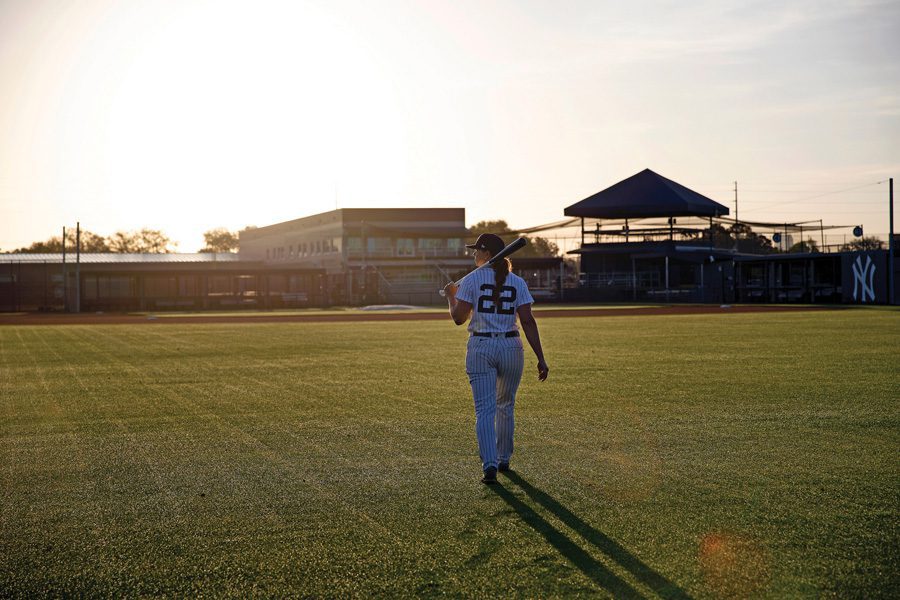 When the Yankees hired her as the league's first full-time female coach, she was 32 and had lived in 15 cities in 12 years.
"When I actually got that job, I had $14 in my bank account," Balkovec said. "I was broke as a joke."
She called her parents to tell them she had made history. And to ask them if they could lend her some money to cover her move.
Balkovec nods to her parents for setting the stage for her ground-breaking career.
"My father and mother, they deserve an award," Balkovec said. "They literally raised three girls to be absolute hellions."
The Balkovec girls didn't grow up with gender barriers that told them that certain goals weren't possible. So Balkovec naively thought she could get any job based on her skills and was brought up short when she learned otherwise.
"This is a little counterintuitive," Balkovec said, "but I'm glad I was discriminated against. By the time I was full time, I had done multiple internships. I was super prepared. I'm glad my path was difficult and it still serves me to this day."
Kevin Reese, Yankees vice president of player development, approached Balkovec about the manager job in mid-December.
Reese says there was no agonizing or even much discussion when Balkovec's name came up as a possibility to fill the Tarpon's manager slot.
"It's a no-brainer," he said. "The feedback was always positive on Rachel. Everybody was on board. This is about her qualifications and her ability to lead."
What can the Tarpons players expect from their new manager?
"It's going to be high standards and clear standards. It's going back to honesty and being direct," Balkovec said. "Getting every day to matter and every practice to matter, that's what I'm really passionate about."
And it should be fun.
"They can definitely expect some loud music in the clubhouse," she says.
Since getting the skipper job, Balkovec has been working 14-hour days, immersing herself in all aspects of a baseball team. While her experience has been in strength and conditioning and hitting, Balkovec is getting up to speed on fielding and pitching as well as all the aspects of running an organization and team travel.
One aspect of the job has always come easily for Balkovec — developing camaraderie and cohesion among players.
"My goal is really to know the names of the girlfriends, the dogs, the families of all the players," she said. "My goal is to develop them as young men and young people who have an immense amount of pressure on them. My goal is to support the coaches that are on the staff."
In Class A, she will have the youngest and least experienced players to work with.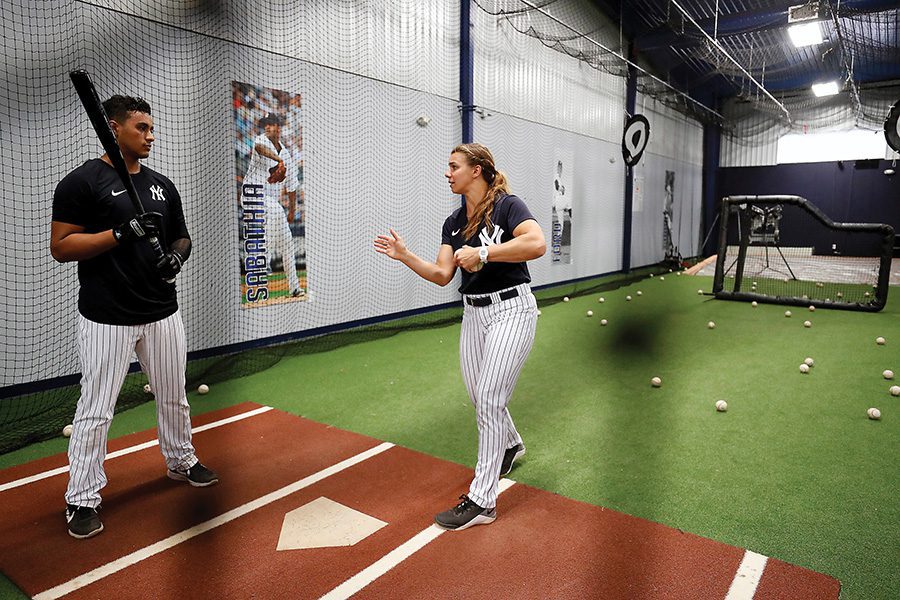 "We're going to be talking more nuts and bolts of pitching and hitting with them, and defense," Balkovec said. "It's really just to be a supporter, and to facilitate an environment where they can be successful."
Even though she's a trailblazer, Balkovec has experienced very little sexism on the field or in the clubhouse.
"In 10 years, so little that it's not even worth mentioning," she said. Players have a certain level of curiosity when they're meeting the first female coach they've ever known, which Balkovec understands as completely normal.
"I just know within five minutes — my presence in the room, I speak confidently, I'm bilingual — it all just goes away. The players I've worked with, I do feel — whether they like me or they don't like me, they like what I'm saying or they don't like what I'm saying — they respect me. They do know I'm passionate and hard-working and I know what I'm talking about."
Balkovec notes that there are now 11 women in uniform in baseball today, so the tide is turning slowly.
"There were many times in my career where I felt extremely lonely and I literally didn't have anyone to call who had been going through the same experiences," she said.
Balkovec is active on social media, which she says isn't about feeding her brand, but inspiring others.
"I want to be a visible idea for young women. I want to be a visible idea for dads that have daughters," she said. "I want to be out there. It's something I'm very passionate about."
Brian Cashman, the Yankees general manager who recruited Ng more than 25 years ago and put the first crack in baseball's glass ceiling, calls Balkovec "a really impactful, smart person. What's she's bringing to the table is her knowledge and her strength and her perseverance and her thoughtfulness and her empathy. She's as tough as they come."
Balkovec's ultimate goal is to be a general manager.
"Right now, I'm a manager," she said. "I don't really have a timeline for when I would leave, but I just know in the future, that leadership and the front office is definitely present in my mind."
I understand that's a very long-term goal," she said.
When asked whether she has the skills to go higher in coaching or management, Cashman said, "The sky's the limit. She's determined. She's strong. She's got perseverance. I would not put any limitations on what her future would entail. She's willing to go to the ends of the earth to accomplish her goals. This is someone who will not be denied."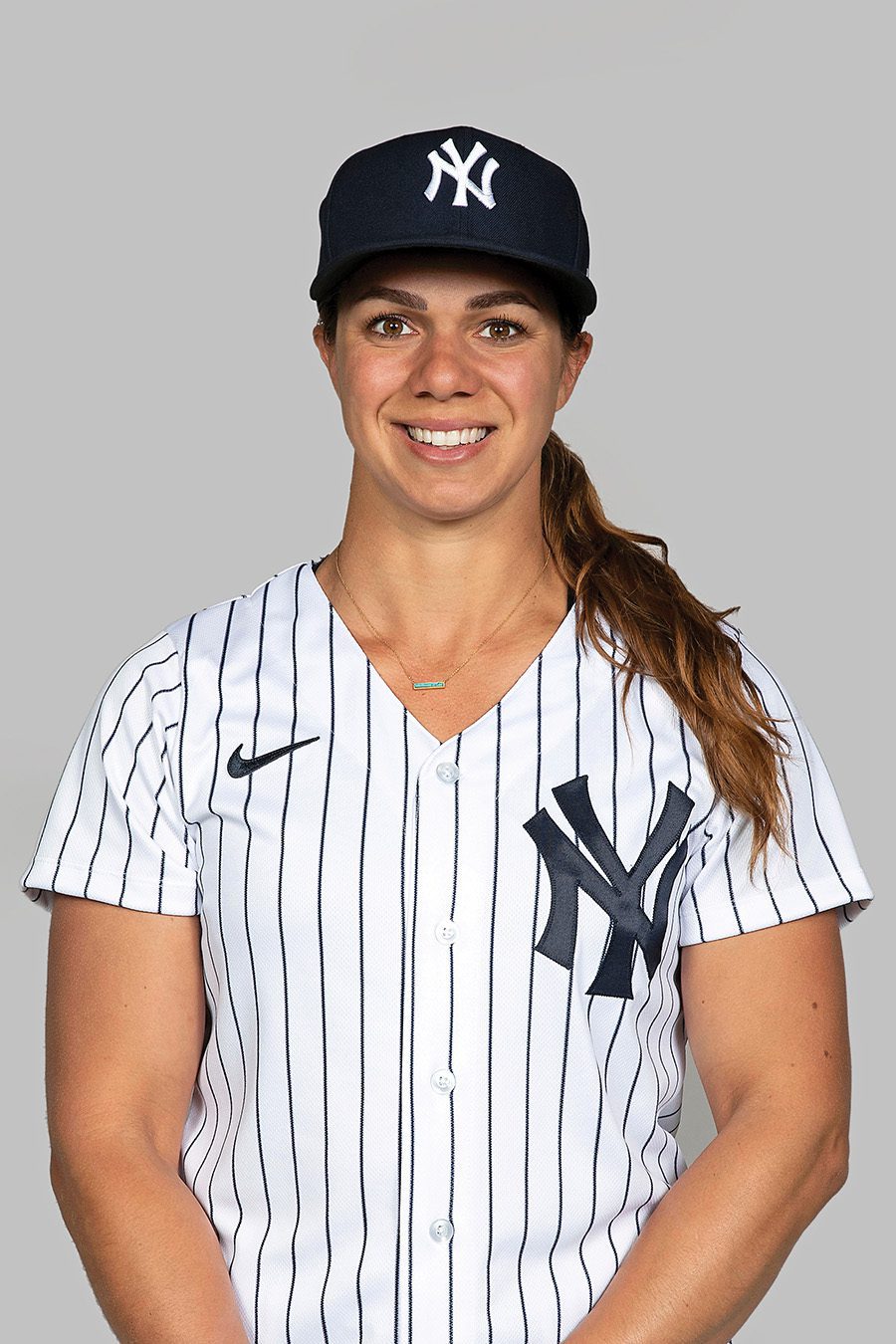 From Here To There
After Balkovec graduated from UNM in 2009, she followed a path of perseverance that led ­— 11 years later — to a position as minor league hitting coach with the New York Yankees, which led to her current position as manager of the Tampa Tarpons, in the Yankees' minor league system.
These were moves she made to get there:
2009
Strength and Conditioning Intern: API (Now EXOS)
2010
Strength and Conditioning Graduate Assistant: LSU
2012
Strength and Conditioning Intern: St. Louis Cardinals Major League Baseball
2012
Front Office Internship: Los Tigres Del Licey (La Republica Dominicana)
2013
Strength and Conditioning Internship: Arizona State University
2013
Strength and Conditioning Internship: Chicago White Sox
2014
Minor League Strength & Conditioning Coord: St. Louis Cardinals
2016
Latin American Strength and Conditioning Coordinator: Houston Astros
2018
Minor League Strength and Conditioning Coach: AA Affiliate: Houston Astros
2019
Returned to School for MS in Biomechanics in Amsterdam
2019
Apprentice Hitting Coach: Netherlands National Baseball & Softball programs
2019
Research & Development Intern: Driveline Baseball: Eye Tracking for Hitters
2019
Hired by New York Yankees as an Major League Baseball hitting coach
Spring 2022 Mirage Magazine Features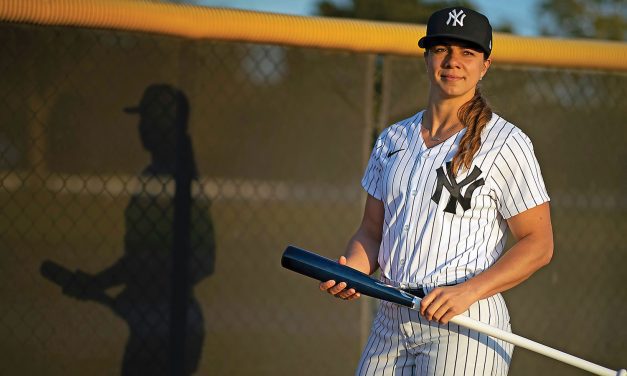 Rachel Balkovec makes baseball history, former Lobo catcher climbs the MLB ladder…
Read More