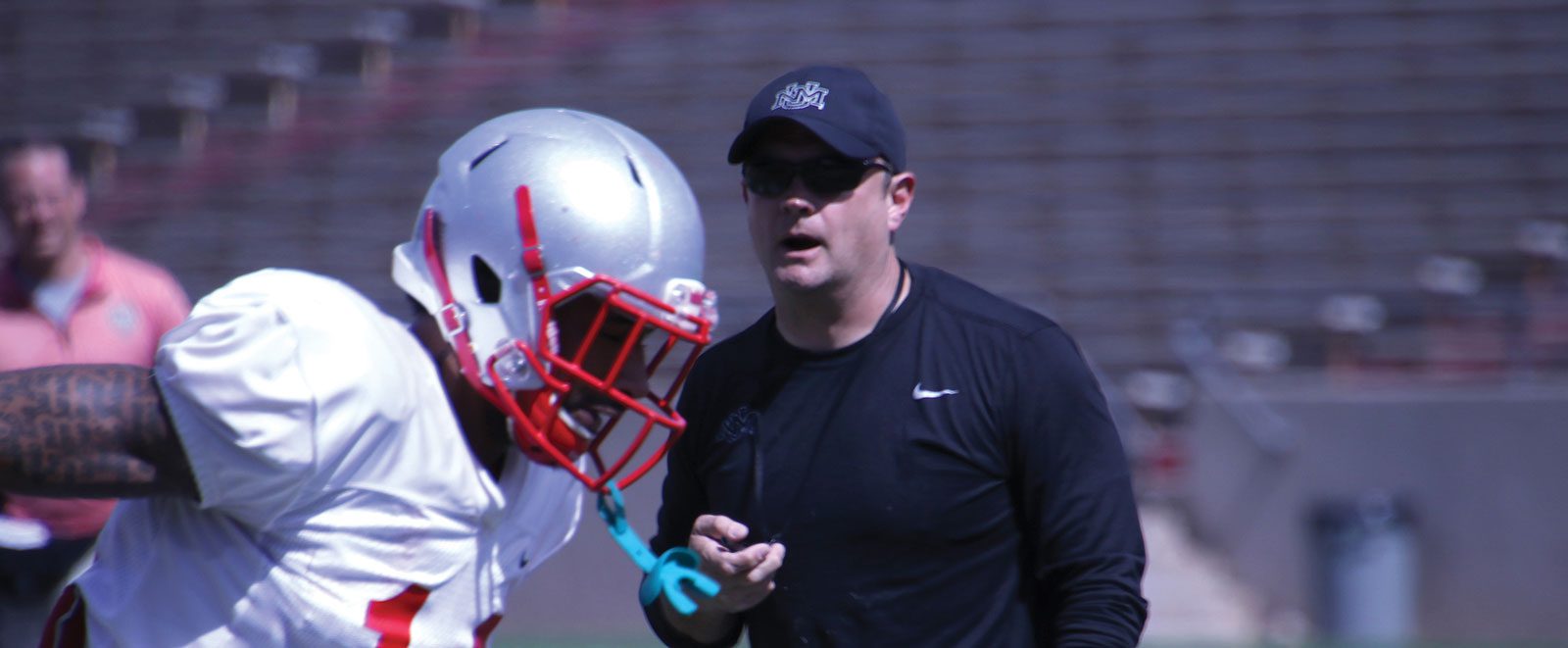 Welcome Home, Coach Gonzales: You Can Unpack Your Suitcase Now
By Glen Rosales
Chaos and organization were the themes football coach Danny Gonzales ('99 BBA, '02 MS) kept coming back to as he completed a rookie season completely upended by the COVID pandemic. As he embarks on a second season, hoping quarantines and months-long hotel stays in Nevada are behind him, Gonzales can see the benefit of his team bonding through the dark days of 2020.
Gonzales' debut with the Lobos — the feel-good story of hometown boy returning to his alma mater — was derailed almost immediately as restrictive public health orders all but curtailed the team's ability to be competitive.
While other Mountain West schools —and football teams around the country —were going through standard practices under their local public health directives, UNM was permitted only small group settings of five for non-contact instruction and was forced to cancel its season opener at Colorado State and play its "home" game against San José State in California.
"You have to give the kids credit. We kept dangling these carrots in front of them and it was like Lucy from Peanuts — she kept yanking that ball out," Gonzales said, referencing Charles Schulz's famous cartoon story line that always ended with Charlie Brown flat on his back after whiffing at the open space where a football used to be.
Unable to practice or play at home, the Lobos headed to the bedroom community of Henderson, Nev., a town they would call home until the season ended with a 2-5 record and not a single game played at home.
"The chaos and organization," Gonzales said of those uncertain months of August, September, October and November. "You couldn't have any organization because day to day things seemed to change. At some point those kids had to think, 'This guy is a liar. Screw this,' and do something stupid, have a party, because we're not playing anyway. And they never did. They kept down the path, kept down the path."
Hotel living certainly was no vacation as players were limited to their rooms except during practices, position meetings and meals. For 42 days.
"Hotel living certainly was no vacation as players were limited to their rooms except during practices, position meetings and meals. For 42 days."
"Sitting in a hotel room with one roommate was very challenging for (six) weeks," Gonzales said. "It was a lovely hotel. We had a ballroom for our meeting room, so it was a big ballroom. So, they'd come down and hang out with the coaches. And I mean, I missed my family dearly. That was the hardest part of this whole deal was being away from my wife and kids. But the opportunity to be around the guys and figure out who loves football and who really wants to be good — and the ones that don't really care about football, and it's not that important — was very telling."
New Mexico went on to lose its first five games, but Gonzales remained undiscouraged.
"We're 0-5, losing to Utah State and me telling them how terrible we were, which I won't take back because we were. We were coaching them terrible. We were playing terrible," he said. And then, the Lobos started to win. "The last two games gave them a belief: 'Everything they asked us to do does work. There is a reason behind this.' Being the most physical team. Playing through the whistle. Doing all of those things actually works."
True freshman quarterback Isaiah Chavez threw the game-winning touchdown against Wyoming and came back the next week to lead a victory against Fresno State. The stunning performance from Chavez, a walk-on from Rio Rancho High School who started the season as fifth-string under center, sent New Mexico into the current season with significant optimism.
"Momentum is good. A lot of people think we're never going to lose again: we're not that good," Gonzales said. "We're better, but we're not a good football team. We will be a good team. But they definitely have the understanding of what it's going to take and they're willing to work. They're a great group of kids. We're not the most talented team. I tell them that, too. We out-work people and we can out-physical people and we have enough talent to be competitive."
That kind of mirrors the way Gonzales, 45, has moved in his football career.
Before committing to football, Gonzales played soccer at Valley High School in Albuquerque. When he broke his leg on the pitch, however, the Viking football coaching staff convinced him to turn to the gridiron full time.
He walked on at UNM as a safety and a punter, eventually earning three letters and the Chuck Cummings Memorial Award, which is given for morale and spirit.Gonzales started his coaching career under another UNM alumnus turned Lobo head coach, Rocky Long. He began as a grad assistant, then became video coordinator before taking on safeties and special teams for three seasons.
Gonzales graduated in 1998 with a bachelor's degree in business administration and general management and earned a master's degree in physical education and recreation while he worked for the Athletics Department.
When Long left New Mexico in 2008 and took the position at San Diego State, Gonzales followed along, eventually becoming defensive coordinator for the Aztecs.
Before coming back to Albuquerque, Gonzales left Long's tutelage to work as defensive coordinator at Arizona State in the PAC-12 Conference.
"To be honest with you, I thought I'd never leave here"
 "To be honest with you, I thought I'd never leave here," he said "I thought the goal of the plan was to coach here forever. I mean, I grew up in Albuquerque, never left and had the opportunity to have a Division I football job at my home school."
When that plan was interrupted by Long's departure, Gonzales was caught off guard and had to regroup, which turned out to be a blessing in the long term.
"I would not have been prepared to have this opportunity had I not left here," he said.
And now there is no place he would rather be.
"I'm living my dream because we have an opportunity to compete for championships," he said. "If we didn't or if that ever changed — the opportunity to compete for championships — then this wouldn't be the right place."
That, Gonzales said, was his main concern in returning to New Mexico. "When the whole interview process started, (I'm asking), 'Are they really in it to be the best team in this league? Because if they're not, I'm not coming.'"
Gazing across his desk and out at the open horseshoe end of University Stadium, with the gleaming field awaiting the next game and the Sandias peeking out from behind the eastern bleachers, Gonzales knows what he wants to see when he finally gets the chance to see his Lobos down there.
"The three things we told our kids to are effort, attitude and want to. No matter what happens, no matter the situation, no matter what they take away, they can't take that away from you," he said. "You decide how hard you're going to work. You decide what your attitude is going to be — whether it's going to be crappy or positive. And how bad do you want it? How bad do you want to be good? Those three things, no matter what the situation, they can't take it from you unless you let them."