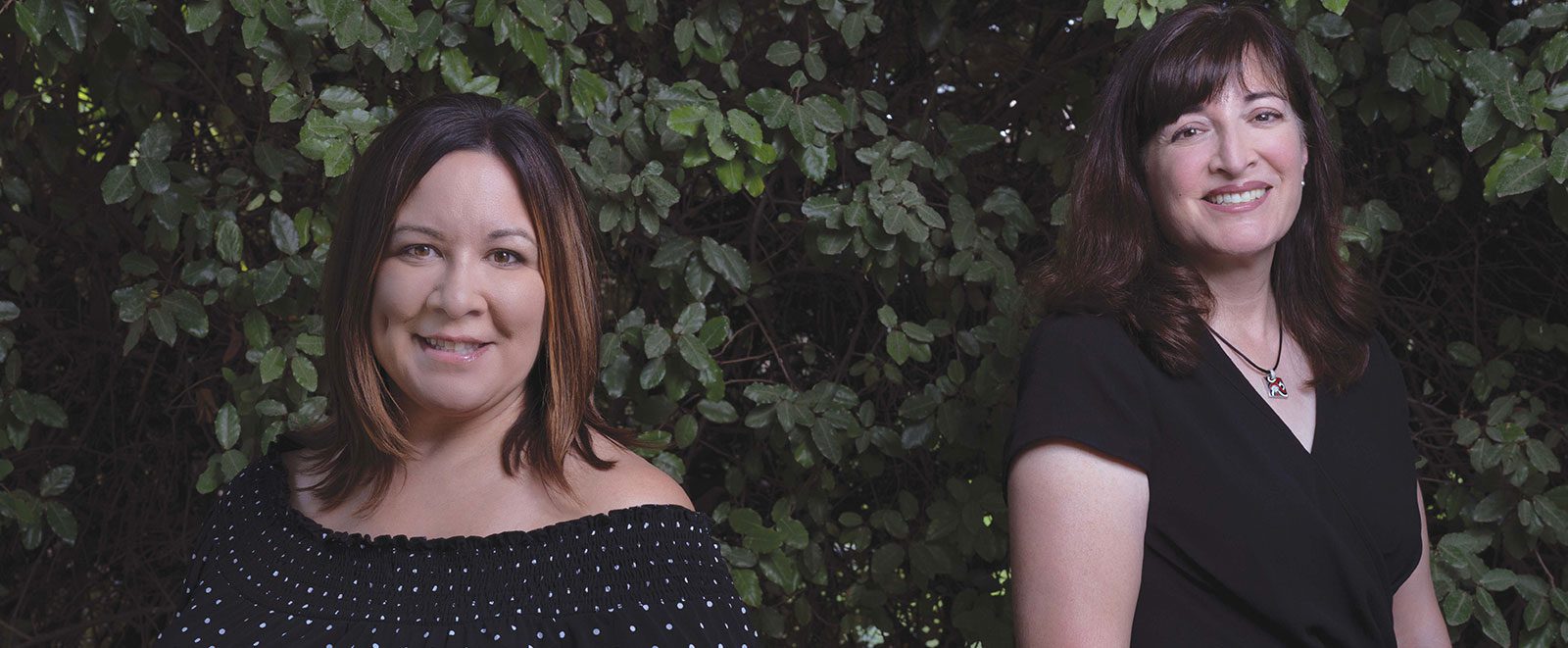 They nursed their mother through a serious bout of COVID and then they both contracted the illness themselves. So when the Duran sisters — one a nurse and the other a school administrator — were asked to stand up two of New Mexico's largest COVID-19 vaccination efforts, they jumped in to meet the challenge.
By Leslie Linthicum
On the Saturday morning in May when they met for coffee on a sunny patio in Albuquerque, sisters Christina O'Connell ('96 BSN, '21 DNP) and Gabriella Blakey ('06 MA, '13 EDD) had seen the welcome news from the state's health department: 55 percent of New Mexicans were now fully vaccinated against COVID-19. Cases had dropped to just over 100 and hospitalizations were plummeting.
New Mexico was heading for herd immunity and it looked like coronavirus might be on the run.
For O'Connell and Blakey, vaccination progress was personal. The native New Mexicans — who grew up with the surname Duran in a family of Lobos — had both contracted COVID-19 and had nursed their mother through a serious bout of the novel coronavirus. But more than that, they had each played a pivotal role in getting their fellow New Mexicans vaccinated.
Before the pandemic struck, O'Connell, who managed the UNM Hospitals Southeast Heights Clinic, was preparing for flu season. When the pandemic hit, her focus shifted to instituting COVID-safe practices at the clinic.
Blakey, then an associate superintendent for the Albuquerque Public Schools, was overseeing the schools in the Southeast Heights. When COVID arrived in New Mexico, she moved deep into the logistics of moving the state's largest school system from in-person to virtual education while keeping students, staff and school properties safe.
She was promoted to interim chief operating officer for the district in July, and began working with the City of Albuquerque's Emergency Management Department and the New Mexico Department of Health in anticipation of COVID vaccines becoming available. APS became a partner in community-wide vaccination, offering empty schools as vaccination sites.
"I've always thought of education in terms of community"
"I've always thought of education in terms of community," Blakey says, "so partnering to help the community made perfect sense to me."
In December 2020, O'Connell was also asked if she would take on additional duties. Could she manage the rollout of UNM's vaccination effort once vaccines were approved and available?
O'Connell jumped at the chance.
"I think I felt very helpless at the time with the pandemic and was wondering how I could help," she says.
Blakey's first vaccination site opened on New Year's Eve at Albuquerque High School with school nurses administering vaccines to medical personnel and first responders.
"It was pretty emotional," Blakey says. "Schools being closed, it being New Year's Eve and to see the actual vaccination for the first time, it was this overwhelming feeling of hope."
As it turned out, there were four vaccine doses left over at the end of the night, and Blakey was chosen to receive her shot.
O'Connell opened what would become one of the busiest vaccination centers in the state in a few weeks later in January, moving thousands of people through the iconic Pit concourse every week and eventually administering 100,000 vaccines.
O'Connell was nervous the day the site opened, but those nerves dissolved as hundreds of people showed up and the lines moved quickly.
"It snowed the first day, so that was a little chaotic, but it was the most positive vibe. This excitement, energy, hope, people in tears. It turned out to be much more of a project than I expected," O'Connell says, "but also probably the most rewarding work I've ever done. People were so grateful. And that was something I personally needed at the time, just to be in a positive place."
O'Connell, 47, and Blakey, 45, who grew up in the Southeast Heights in the Hispanic/Italian Duran family, dived into their roles with a zeal borne of personal experience.
"For us," O'Connell says, "there was a real personal drive to help with vaccines."
Their mother contracted COVID while recovering from an automobile accident in a rehabilitation facility. Blakey and O'Connell cared for her when she was discharged and they also both contracted the virus, although with less severe cases than their mother.
When the Pit clinic opened, O'Connell and Blakey found themselves in meetings together and talking to each other on the phone every day.
Finding themselves in this strange convergence, was odd and completely unexpected for the sisters.
"I remember pretty early on saying, 'Who would have thought that our careers would have converged around vaccinations?'"
"I remember pretty early on saying, 'Who would have thought that our careers would have converged around vaccinations?'" O'Connell says.
A lot of people found themselves stretched to the max during the pandemic ­— juggling working from home with managing children's at-home school, maybe taking care of a sick relative and dealing with the challenges of isolation. O'Connell and Blakey can relate. In addition to both being ill themselves and caring for their mother, who was hospitalized twice for COVID, the women ran their households, hosted virtual holiday celebrations and held down their regular jobs. Neither got a break from their already full-time professional responsibilities while they took on the vaccine; in fact, both were promoted to even more challenging roles — O'Connell as executive director of Ambulatory Primary Care Services for UNMH and Blakey as COO for APS.  But pitching in to help community is a family value taught by their parents to Christina, Gabriella and their brother John ('00 BA), an attorney.
Their mother, Maria Duran, is a nurse who ran school-based health programs through the UNM School of Medicine before she retired. Their dad, Don Duran ('03 EdD), was a longtime APS principal who also served on the school board.
"Growing up, we were raised with this sense of being helpful and a real sense of social justice," O'Connell says. "This experience completely spoke to that and it was just so special that we were able to share it. Our parents are so proud of us."
One morning, O'Connell was driving to work at the Pit when she found herself crying. "It just hit me that this inspiring thing was part of my job and that people were getting this hope." Blakey agrees.
"It was a very rewarding experience during a time when everything was dark," she says.