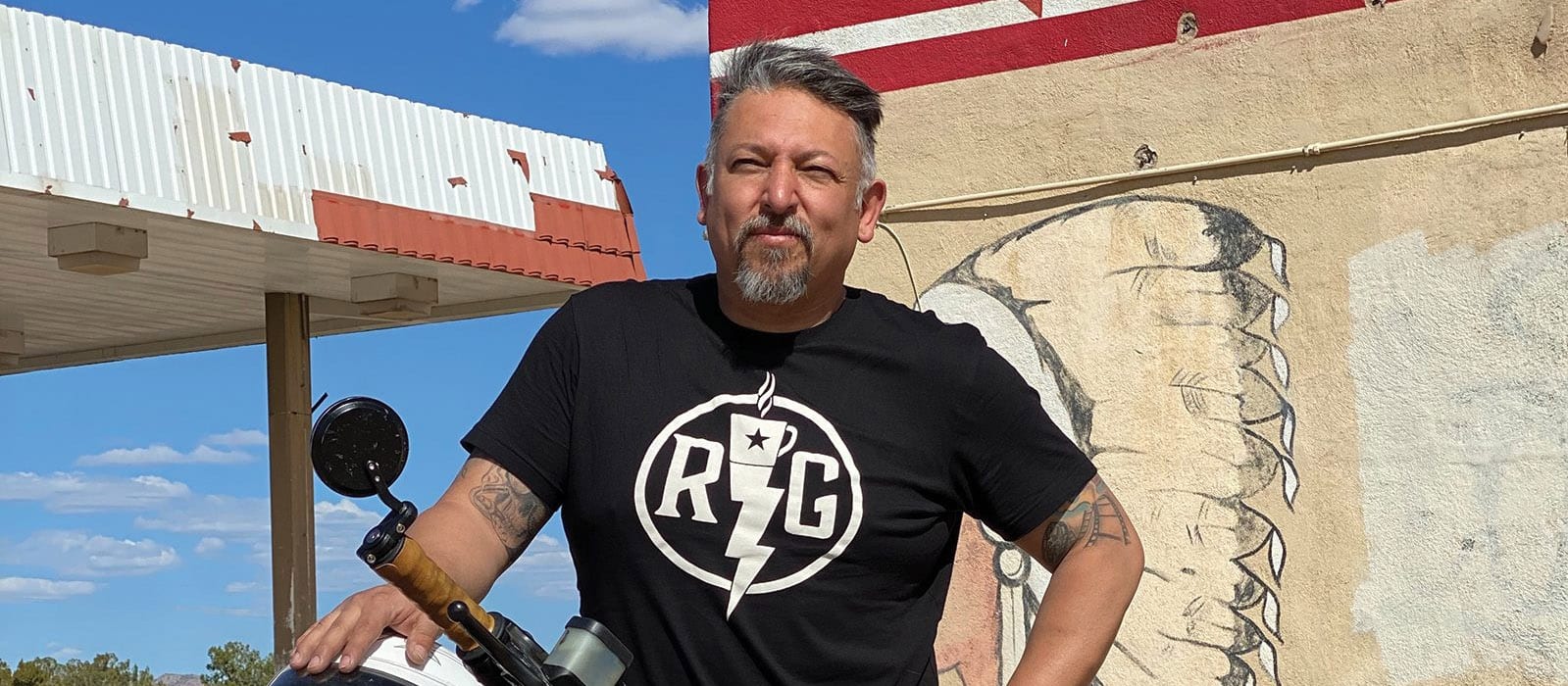 Alumnus Steven Maes ('00 BUS) created iconic graphics for 'Breaking Bad' — and many more movies and TV shows
By Leslie Linthicum
Growing up in the copper mining towns of Ely, Nev., and Silver City, N.M., Steven Maes ('00 BUS) loved to go to the movies and to play around with an 8-millimeter handheld movie camera his family owned.
But Maes's first love was music. He played piano, sax and guitar, and at Silver City High School he fronted the rock band Private Session.
"I was going to be a rock star," Maes says with a smile today.
He gave it a good shot. In fact, Maes immersed himself so much in the local music scene when he enrolled at UNM that his grades suffered and he was placed on academic probation and left college.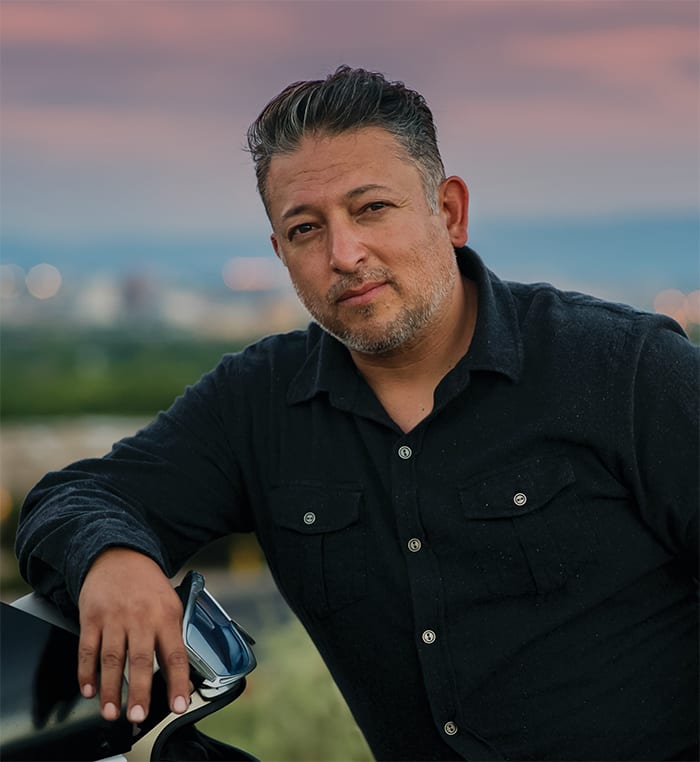 Maes worked in recording studios and played in bands — Split Image and Audio Drain — in Los Angeles and around the Southwest.
Sadly for Maes — but luckily for movie lovers — he realized that his dreams of making it big in rock would have to remain dreams. At 27, married and with a baby on the way, he went back to UNM.
He had an interest in film and art and he had worked at a graphic design house before his return to UNM, so Maes designed a major in University Studies that incorporated art, media and film.
After graduation, there was the question of what to do with that degree.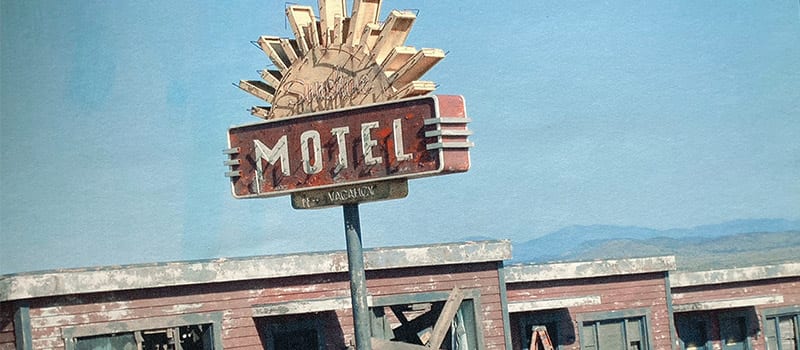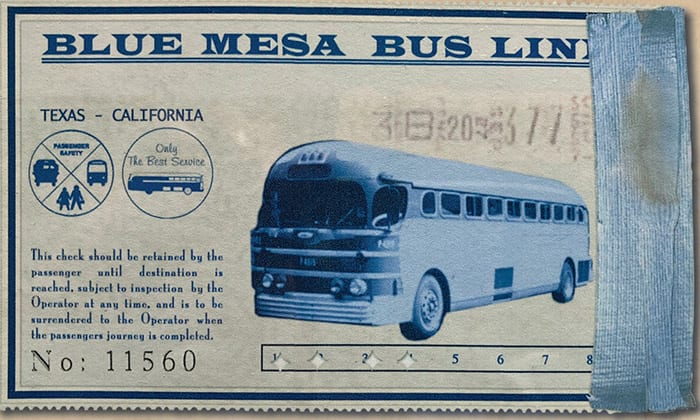 Maes went to work at a graphic design firm and launched a magazine about the local music scene.
He wanted to work in film, but didn't know if he should pursue videography or screenwriting.
"I've always loved film," Maes says. "As I got to experiment more with different types of film, I loved being able to capture a story. I thought capturing your own story and being able to tell it and show it was visually was amazing."
Maes's sister, JoAnna Maes-Corlew ('96 BFA), had gone to work in Los Angeles as a website designer for Sony Pictures Digital Entertainment, and returned to Albuquerque to take a graphic design job on a television show filming in New Mexico. "Wildfire," which ran for four seasons on ABC Family, was the first big series in New Mexico's nascent film industry.
She heard about a new film coming to Albuquerque — "The Flock," starring Claire Danes and Richard Gere — and suggested Maes apply for a graphic design position on the production.
He got the job.
"It was pretty incredible," Maes says. "It was my first feature film, and it was pretty big, and it was an opportunity to see how the film business actually works."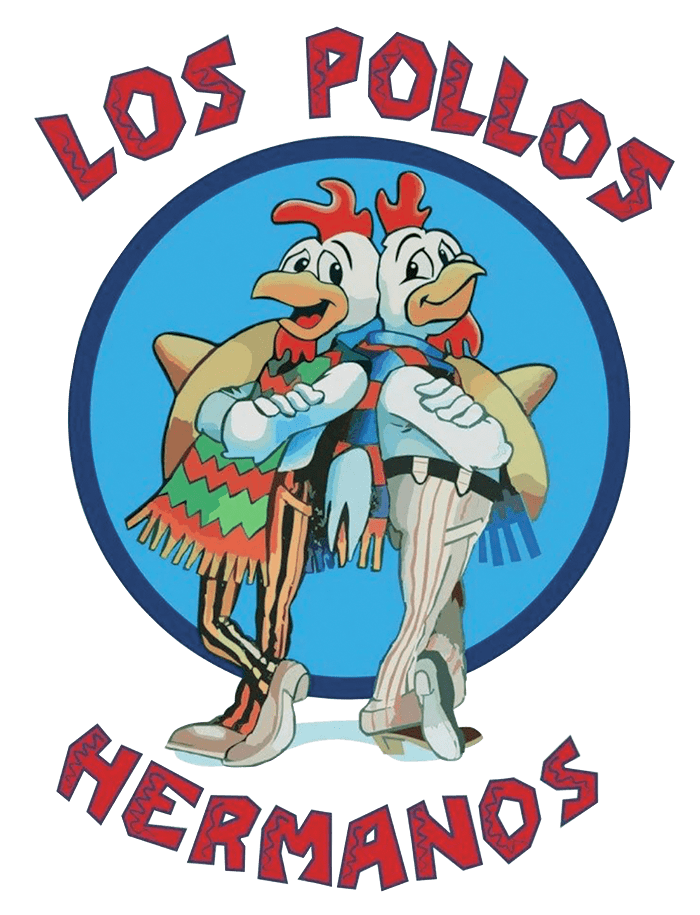 A career in pictures
Let's fast forward our story of Maes's life 20 years — to the present.
Maes now has an IMDb entry that scrolls on for screens, with art department credits for 46 films and TV series.
It reads like a list of just about everything made in New Mexico since the film and TV industry blew up in Albuquerque and Santa Fe just around the time Maes was graduating from UNM.
"In the Valley of Elah." "Sunshine Cleaning." "A Million Ways to Die in the West." "The Ridiculous 6." "In Plain Sight." "Longmire." "Roswell."
And, of course, "Breaking Bad."
The art director on a film or television show is responsible for every space the viewer sees: the buildings, interiors and props. Graphic designers, part of the art team, design every unique item that isn't a ready-made prop — the cover of a book, the sign on the tavern, a painting hanging on a living room wall.
"It's different from commercial graphic design in the sense that if you're doing graphic design for a marketing firm, you're trying to make the best possible graphic that tells a story or sells a product," Maes says.
"In film it's about selling a world. You're trying to sell an environment. You're not trying to design beautiful graphic design. You're trying to design graphics that will sell the reality of a real world."
Maes has worked as a graphic designer, assistant art director and art director, a more managerial role.
Big Break
Maes, on some rare time off from his current gig, assistant art director on "Outer Range," an Amazon drama series being filmed at I-25 Studios and on location in New Mexico, is happy to reminisce about the images he is most associated with — those iconic touchstones that were part of "Breaking Bad."
He was lead graphic designer on the first three seasons of the show that drew a fanatic following and put Albuquerque on the map.
"I designed all of the graphics for the first three seasons of 'Breaking Bad,'" Maes says, taking care to clarify that the show's title logo — the periodic table with the two big Bs — was the work of show's creator Vince Gilligan.
Maes's contribution to the iconography was lawyer Saul Goodman's logo ("In legal trouble? Better Call Saul!") and Goodman's sleazy strip mall office; Shraederbrau beer, the homebrew of Walter White's brother-in-law Hank; the A-1 Car Wash, where White and his wife, Skylar, laundered their meth money; and the sign and graphics for Los Pollos Hermanos, the chicken restaurant run as a front for drug kingpin Gus Fring.
A local illustrator came up with the two chicken characters for Los Pollos Hermanos and Maes and partner Robb Wilson King worked with them to devise a logo.
"We went through so many really funny versions of the logo," Maes remembers. "We had the characters inside a frying pan at one point.
And then we had them in a lowrider, which was kind of cool. And
then we settled on them in the mariachi outfits."
Los Pollos Hermanos, like so many visuals in the series, draws tourists to Albuquerque for "Breaking Bad" tours and is reproduced on collectibles.
"It's amazing to see where all of these things have gone. They're iconic now," Maes says. While he's tired of seeing his work copied on everything from T-shirts to coffee mugs to tennis shoes (and, for the record, he gets no licensing fees from any merchandise), he is grateful to have worked on a hit show in which graphic design played such a big role.
"I feel super fortunate to have been a part of that," Maes says, "just because you never know where these things are going to go."
Before "Breaking Bad," Maes already had an enthusiastic cult following for the prop objects he created for the SyFy Channel mini-series "The Lost Room," another filmed-in-New Mexico hit. The series centers on Room 10 of the Sunshine Motel, where objects — a key, an ashtray, a bus ticket and many more — hold certain powers.
"The show clicked with people and ended up becoming a cult favorite and it spawned all of these fan clubs for the objects," Maes says.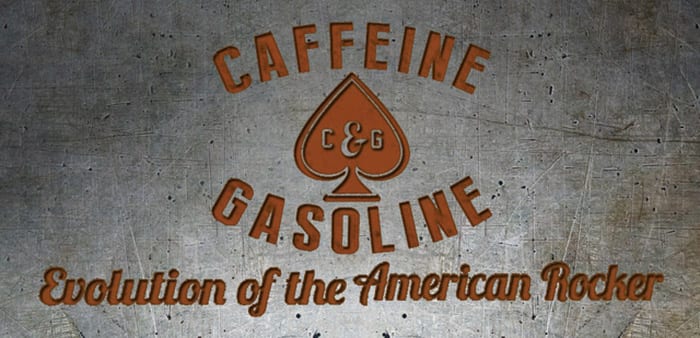 Family business
Maes's sister JoAnna, who now lives in Bernalillo, has her own successful career in TV and film. She has done graphic design on a number of New Mexico productions, including "Godless," "Manhattan," "Longmire," "Breaking Bad" and "Better Call Saul." Her husband Rob Corlew has worked as a production coordinator on "In Plain Sight," "In the Valley of Elah," "No Country for Old Men," and other productions.
Maes's older daughter Kayleigh ('19 BA) graduated from UNM with a film degree, is working as a photographer and already has her own IMDb entry. She had small roles in the TV series "Roswell" and in the mini-series "Godless."
And younger daughter Ashleigh, a senior in high school, has acted in the TV movie "Beyond the Blackboard" and the USA Network series "Dig."
For an aspiring rock star, Maes's career in film and TV and the ability to live and work in Albuquerque has been an unexpected surprise.
"The ability to be here and work on really cool big things, is such a bonus," Maes says. "I couldn't ask for anything else. I never imagined it," Maes says.