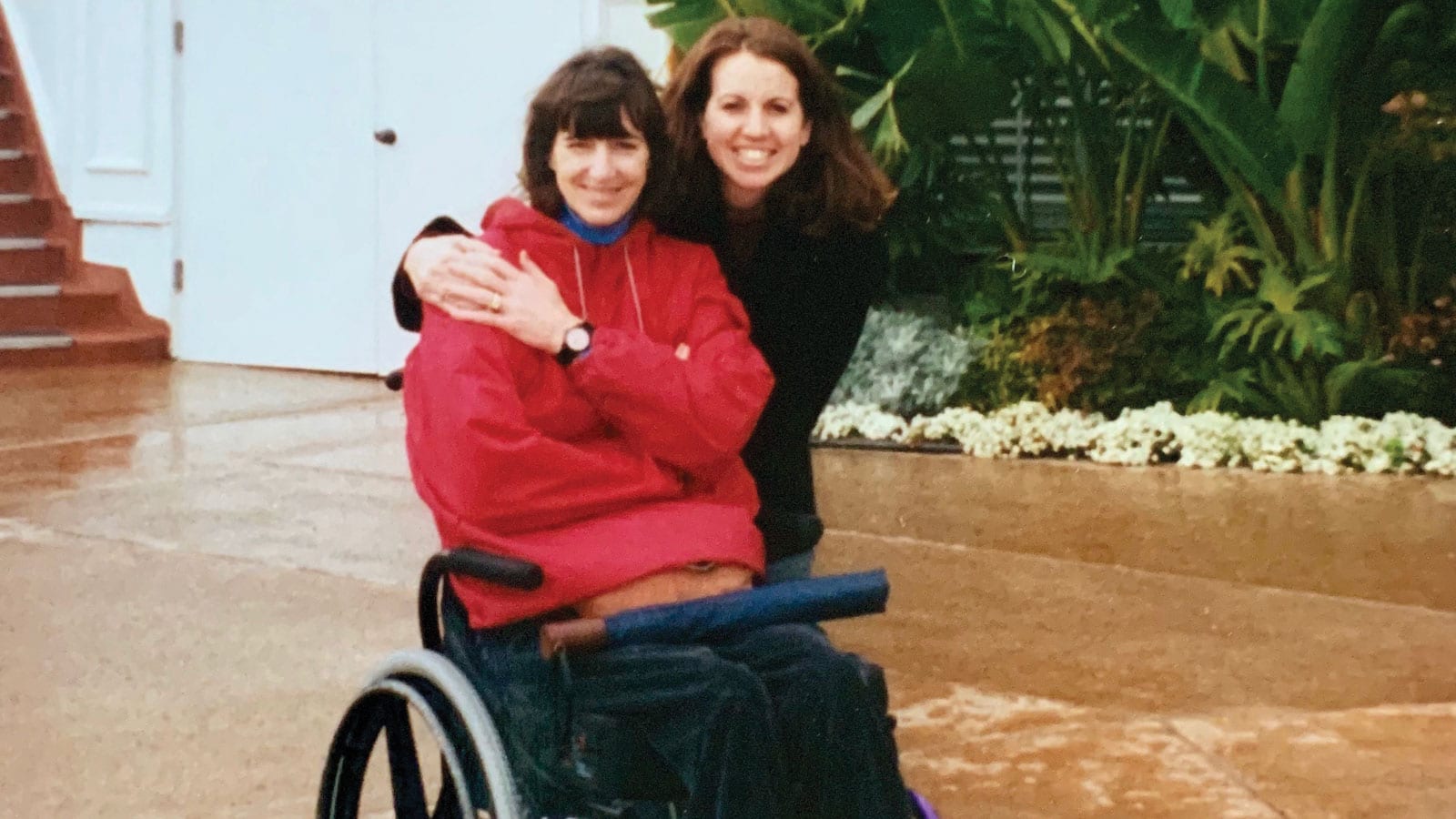 A Scholarship for Students with Disabilities Honors a Courageous UNM Alumna
By Hilary Mayall Jetty
Burden. The word seared into Anne Thomas' consciousness as she struggled to cope with her new reality. She'd been an independent, adventurous 18-year-old hitchhiking through Europe in 1976, when a car accident left her paralyzed from the chest down. And now a doctor was suggesting that this former college athlete resign herself to life in a nursing home to avoid being a burden to her family.
Thomas deeply resented and resisted this attempt to label her. Disability and adversity tested her patience and resolve throughout her life. Yet her determination to break though physical, psychological and societal barriers, for herself and others facing similar challenges, led to remarkable personal and professional achievements. Her family established the Anne B. Thomas No Bounds Scholarship at UNM after her death in 2019, to honor her accomplishments and provide tuition assistance for undergraduate students with disabilities. They managed to endow the fund with the help of family, friends and former colleagues, and a few bake sales.
Thomas was known as a brilliant, gutsy woman with a kind heart and a wicked sense of humor. Born in the same year as Thomas' accident, Allison Yabroff's earliest childhood memories of her beloved Auntie Anne always included a wheelchair. "It was just something that was there," she said, "but it didn't define her in any way in my eyes. She was always so loving and fun to be around, eager to talk, play games and tell jokes."
In 1977, Thomas completed rehab in California. She wanted to finish her undergraduate degree, which she'd begun in Washington, D.C., before her accident. Yabroff's family was living in Albuquerque. "The Americans with Disabilities Act wasn't passed until 1990," she recalled, "and most places were very hard to get around. But UNM was a much more accessible campus, with elevators and ramps, so Anne decided to give it a go."
After earning her BA, Thomas received her JD from the UNM School of Law in 1983. She learned to drive with hand controls, enjoyed being involved in the university community, and fell in love with New Mexico. "This was the place where she regained her independence," Yabroff noted. "Once she had her accident, she was dependent on family, friends and doctors. When she came to Albuquerque, to UNM, she really restarted her life." 
Throughout her career, Thomas worked and traveled far beyond New Mexico's borders. A fierce advocate for equality, inclusion and justice, she served as a civil rights attorney, dispute resolution expert and leadership development professional. She worked at the U.S. Equal Employment Opportunity Commission in Washington during the creation of the Americans with Disabilities Act.
Thomas happily returned to Albuquerque in 1990 to serve in the UNM Office of Equal Opportunity, eventually becoming its director. She worked on cases of sexual harassment, and pioneered domestic partnership rights on campus for employees. An opportunity to lead the World Bank's offices of diversity training and employee mediation disputes took her back to D.C. in 2000.
However, in addition to the trials of life in a wheelchair, Thomas had been diagnosed with essential thrombocythemia, a bone marrow disorder. The illness eventually forced her to stop working, and prevented her from returning to the high desert home she cherished. True to her nature, she looked toward a more distant horizon, enrolled in an improv class and discovered a talent for storytelling. This creative passion enabled her to connect with people in new and deeper ways as she revealed her personal experiences. In 2013 she won the National Storytelling Festival Slam.
Far from being a burden to anyone, Thomas lived a full life, with no bounds. She found love, traveled the world, learned to ski and scuba dive, and adored dancing. Although she wasn't able to realize her dream of returning to Albuquerque in retirement, her legacy will endure. Yabroff and her family are continuing to raise awareness and funds to increase the scholarship's impact.
"UNM made such a difference in Anne's life," said Yabroff. "We're trying to help lower some barriers that individuals with disabilities often encounter with respect to accessing higher education, like tuition, books and housing. Many students with disabilities face an increased cost of living and reduced employment opportunities. We want to provide support, and carry on Anne's legacy."
If you'd like to support to the Anne B. Thomas No Bounds Scholarship, you may do so by visiting www.unmfund.org/anne-b-thomas.