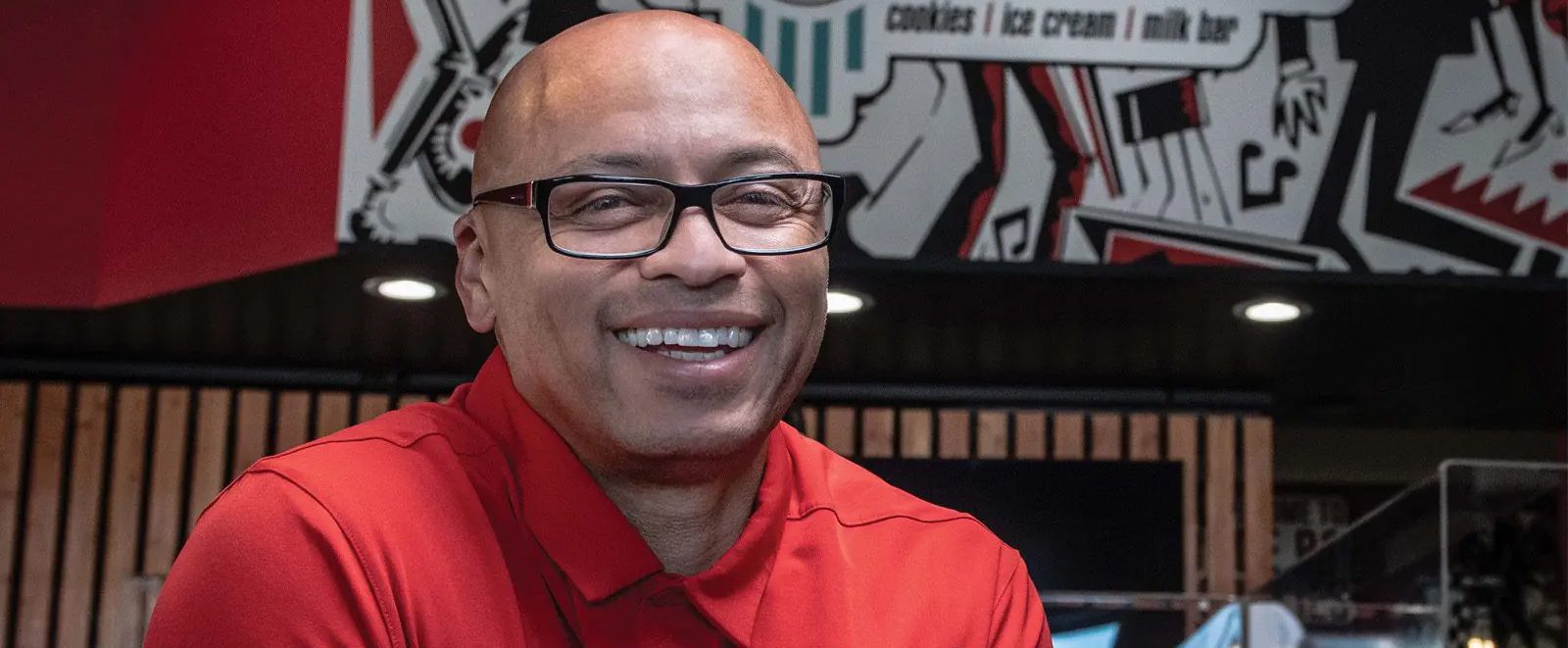 All About Community: From ska beats to cookie batter, Alumni Association President Mike Silva keeps it real
By Leslie Linthicum
A snapshot of Michael Silva's life before age 8: Violence on the streets of South Central Los Angeles. Chaos at home. A fearless little man fighting to survive a tumultuous and violent childhood.
Michael after age 8 when his mother snatched up her three kids (with a fourth on the way) and moved to Albuquerque to start fresh: With space and calm, the angry kid begins to relax. He finds the saxophone in band class and a passion is sparked. People come into his life who are helpful and kind. From his house in the Kirtland, he can see The Pit and University Stadium. He begins to dream of going to college, specifically UNM.
The Central Avenue location of Rude Boy Cookies, Silva's business for the past seven years, is not yet open as Silva ('95 BA) sits in a comfortable booth and reflects on the course his life has taken, the "then" and "now" that seem entire worlds apart.
But as Silva reaches new heights – two successful businesses, a stable, loving family, a circle of friends and accolades and awards from his community – he is reminded that everything he is today has roots in that scrappy, damaged kid from L.A.
"My childhood was pretty hardcore. There was a lot of loss, there was quite a bit of trauma," he says. "As an adult now I'm finding that I'm still processing some of that stuff and dealing with it. But it's work that I'm fully engaged in, I'm active in and I'm committed to because now I'm a father."
The incoming president of the UNM Alumni Association chokes up when he thinks about that kid who is still inside him.
"It's heavy and it doesn't go away. It doesn't matter how successful you are. It doesn't matter how much community equity you have," Silva says. "If you don't deal with that stuff, it never goes away, it always comes back. So, because of all of the loss and the abandonment that void in me is filled by tremendous amounts and love and grace and kindness."

Silva first picked up the accordion as a kid in L.A., but it was the saxophone that hooked him on music.
By the time he landed at Del Norte High School as a freshman, he was an accomplished musician. "That was my life," Silva says. "I was laser focused. That's all I cared about. It became my direction. It became my path."
When he neared graduation, he targeted UNM and a degree in music. "I grew up in the shadow of the University. My love of the University began to grow at a very young age and I knew I wanted to go to UNM."
His first semesters were tough. He wasn't clicking with his classes. His study habits weren't cutting it. He struggled to afford tuition and living expenses. And scheduling an 8 a.m. math class didn't help.
He was teetering on the edge of dropping out when he decided to try a different major as a sophomore and see if his interest in history and politics might help him find a focus.
He switched majors to political science and began to excel.
"I had some unbelievable professors who helped me, pushed me, guided me. I had Fred Harris for several classes. He was very impactful."
Still, performing on a stage with a band held a powerful sway. Silva put law school on hold (becoming the next junior senator from New Mexico could wait) and pursued music. He played sax and drums in Cool Runnings, a 10-piece reggae band, and in Giant Steps, a seven-piece ska band that had regional success, cut a few albums and toured with some national acts.
When it came time to get to down to more traditional work, Silva went into hospitality and sales. Getting fired from a sales job persuaded him to become his own boss and he and fellow Lobo Jesse Herron ('03 BBA, '05 MBA) hatched the plan for ABQ Trolley Co. in 2007 over chips, salsa and five hours of conversation at a Taco Cabana.
Once their custom-made trolley was delivered in 2009, they launched the tour company, switching off driving and microphone duties, and grew the company into what it is today – Albuquerque Tourism and Sightseeing Factory, an umbrella for the four divisions of the company: trolley tours (which include the wildly popular Breaking Bad tour), a walking ghost tour, a party bike business and ABQ in a Box, a gift company.
For his next entrepreneurial venture, Silva looked to two of his passions – ska and reggae music and cookies.
Ska music, which originated in Jamaica and shares an offbeat with reggae, has an inclusive ethos (its early "two-tone" bands were racially integrated) and an upbeat energy and message.
Two-tone fashion is a black-and-white checkerboard and when Silva played in ska bands he wore the sharp black-and-white ska uniform favored by Rude Boys, the fervent ska fanatics – a neat black suit, white shirts and black skinny tie and sharp shoes.
"My life is ruled by checkerboard. It's everywhere and in every aspect of everything I do," Silva says. In 2014, Silva wanted to start another business. There was no cookie bakery in Albuquerque at the time, so he decided to launch one with a former co-worker, Kristin Dowling, a dedicated baker who had a culinary degree from CNM.
They opened Rude Boy Cookies in 2015 with the intent of satisfying sweet tooths and also engaging with and supporting Albuquerque.
"To me, there's much more to life than the bottom line," Silva says. "I want to be successful. But there's more important things than just making a buck."
Silva, whose 23 and Me results show is 60 percent Black and 30 percent Spanish, was traumatized and then galvanized by George Floyd's murder under the knee of Minneapolis police officer Derek Chauvin in 2020. With members of his circle of brothers, a group of Black professionals in Albuquerque, he helped to organize a silent protest at Civic Plaza, and another along Central Avenue. They formed BURQUE Against Racism and Silva is committed to helping the less fortunate and, in his words, "lifting up all Black lives in Albuquerque."
"I am going to stand up for what's right and I'm outspoken about it," he says. "I've maybe lost business because of it but I can look at myself in the mirror every single day and know that I'm doing the right thing."
Silva is honored to serve as president of the UNM Alumni Association and he wants to use his year as the head of the board to help build pride and connection to an institution that lifted his family and changed his life.
After arriving in Albuquerque, his mother, Martha Washington ('84 BA, '87 JD, '94 MA) began attending UNM and was an academic advisor for athletics and then a student in the School of Law while Silva was an undergraduate.
"The University became a huge part of me," Silva says. And it helped lift us up. I bleed Cherry and Silver with a little tinge of checkerboard."
The goal for this year is engage active students to build excitement and a loyalty to UNM so that they become alumni with a strong connection to the Alumni Association.
Silva hopes to make a whistle-stop tour across campus to engage with undergrads in all majors and to build something like a Big Brother/Big Sister mentor network between alumni and at-risk students.
The Alumni Association, Silva says, is the school's front porch. "Every alum is an ambassador to the University and it's our job to engage people. To me it's about asking people to be great ambassadors by speaking, by sharing the love of the place."

Quick takes
His favorite cookie: Chocolate chip, forever.
Top three tracks on his all-time playlist: "Three Little Birds" by Bob Marley; "Ghost Town" by the Specials; "September" by Earth, Wind & Fire.
Family: Wife Penimah Silva ('11 BA) , office administrator at the Keleher & McLeod law firm; daughter Ariella, 8.
How he spends a day off: It's all about his family and his back yard, which got some major love during the pandemic.
Life-changing moment: When he was 18, Silva was hired as a baseball and basketball coach at Camp Greylock, a storied sleepaway camp in Becket, Mass., and found a mentor there, camp director Bert Margolis, who would change his life. Silva returned for the next 13 summers and became head counselor.
"Bert Margolis became the first true father figure I ever had in my life. He stuck around, seemed to care, taught me the life lessons I still live by."
About that Rude Boy name: "Fans of ska music are called Rude Boys. A Rude Boy is somebody who shows up at a ska show, dressed in a really nice suit, with a skinny black tie, really slick shoes and a pork pie hat."